When you host an event at Hofstra University, you will benefit from our comprehensive facilities and experienced staff of event planners. Our facilities offer all the amenities of a modern conference center. Our newly renovated meeting spaces feature state-of-the-art audiovisual equipment, large open spaces with ample natural lighting. All our meeting rooms and classrooms are equipped with LCD projectors, please inquire about our current audiovisual rates. Complimentary wireless internet access is available in our residence halls and facilities.
Student Center
The majority of our banquet spaces are located in the Mack Student Center, which is also considered the main hub of the campus.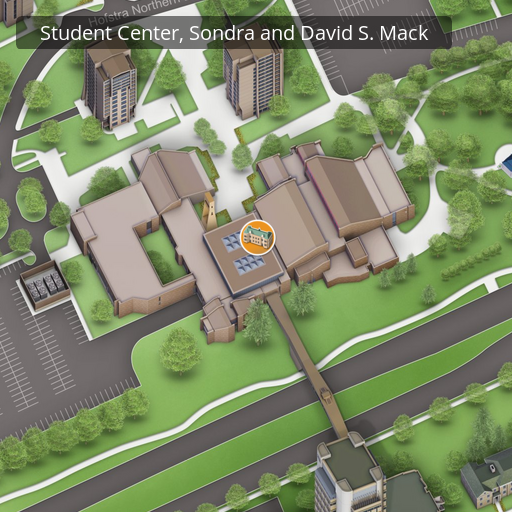 Meeting & Classroom Spaces
We offer spaces that can be customized to fit your needs. The Mack Student Center is the hub of Hofstra University and offers 20 flexible spaces that are sure to meet the needs of your conference, meeting, or other event. This hub connects our North and South Campus via a pedestrian bridge.
Our largest flexible space in the Mack Student Center is the Multipurpose Room, it can accommodate up to 400 of your guests. The Mack Student Center also contains numerous breakout spaces for large conferences or for those interested in hosting smaller meetings.
Our South Campus is home to our academic spaces. You will find numerous classroom sizes available for your meeting, exam, test preparation or any conference that requires multiple breakout rooms. The classrooms are a short step from the Mack Student Center. There is free parking available on both North and South sides of our campus.
Image
Image
Image
*SC= Student Center
Room
Area (sq. ft.)
Clear
Classroom
Row
Banquet
Photos
SC Multipurpose Room (MPR)
6150
415
 
415
330
Image
Floorplan
SC MPR West
2869
188
91
188
140
Image
Floorplan
SC MPR East
3310
227
109
227
150
Image
Floorplan
SC Plaza Rooms
3447
238
145
238
180
Image
Floorplan
SC Plaza West
1140
94
37
90
50
Image
Floorplan
SC Plaza Middle
1103
69
49
66
50
Image
Floorplan
SC Plaza East
1140
75
37
72
40
Image
Floorplan
SC 140 Rooms
672
49
37
49
30
Image
Floorplan
Hofstra USA
3976
350
 
330
208
Image
Floorplan
SC Greenhouse
4060
270
73
164
110
Image
Floorplan
---
Theaters
Hofstra University offers a variety of theatre venues, which are mainly used for conferences, seminars, and presentations.
Image
Location
Capacity
Area (sq. ft.)
 
Student Center Theater
334
3850
Image
Floorplan
John Cranford Adams Playhouse
1105
(769 orchestra, 336 balcony)
 
Image
Floorplan
The Helene Fortunoff Theatre
334
3534
 
Floorplan
Leo A. Guthart Cultural Center Theatre
132
2724
Image
Floorplan
---
Meeting Space FAQ
Do you accept deposits for meeting space contracts?

In order to confirm your event, full payment is required along with a signed contract and insurance certificate.

What is your cancellation policy?

Forty-five days in advance to receive a full refund.

What forms of payment do you accept?

We accept Mastercard, Visa, and certified checks.

I have a speaker or conference that I would like to bring to the Hofstra University student body, does your office handle that?

In general, the Office of Conference Services works with external customers with a pre-existing target audience outside of the Hofstra community. The Office of Event Management schedules events exclusively for departments and student clubs not external groups. Scheduling of speakers or events for the Hofstra student community would go through our Division of Student Enrollment, Engagement, and Success.

Do you permit outside food and beverage?

No, Hofstra University has an exclusive agreement with Campus Dining by Compass Group.

Do you permit outside audiovisual equipment?

Our built-in audiovisual equipment is conducive to the size of each of our meeting spaces. We cannot guarantee that your equipment will work optimally in our spaces or provide support for outside equipment. With regards to sound, we do not permit outside equipment patching into our house sound system.

What type of furniture is provided for my meeting?

Our existing inventory is assigned on a first-come, first-served basis. However, we have sufficient inventory to run numerous events simultaneously. Any shortage will be rented through our vendor and the cost will be assumed by the customer. Our standard inventory consists of 6-foot tables, folding chairs, 72-inch rounds, 60-inch rounds. If you have any specific requests outside of our standard inventory, we can assist you with the rental process.